Pumps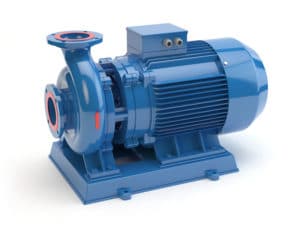 Pump spare parts for maritime engineering and other applications
We specialise in the supply of spare parts for the following brands of pump:
spare parts Allweiler
spare parts Grundfos
spare parts IMO
spare parts KSB
spare parts IRON
spare parts KRAL
We supply high-value spare parts for pumps made by renowned manufacturers such as Allweiler. Uncompromising quality is paramount in order to avoid breakdowns and to ensure a long lifespan, as pumps are often exposed to very high loads, especially on ships. Pumps perform a variety of tasks in both shipping and industry, in power plants, agriculture and other applications in everyday life. They are used to convey liquid or viscous substances. On ships, pumps are applied in, for example, the supply of water, fire protection applications, the removal of bilge water and conveyance of ballast water, as well as for the conveyance of lubricant, fuel and liquid coolants for diesel engines.
Pump types for different applications
Various types of pump are available depending on the application, type and quantity of the filling medium and performance requirements. Rotary pumps, also known as centrifugal or flow pumps, are designed for high flow rates and continuous flow, utilise fluid mechanics and are not self-priming. Rotary pumps are suitable for water as well as oils, viscous substances and chemicals. In maritime technology they are used in, for example, the conveyance of ballast and bilge water.
On the other hand, displacement pumps based on displacement mechanisms are usually self-priming. They are also suitable for the pumping of viscous substances. Examples of displacement pumps are piston pumps, gear pumps, screw pumps and eccentric worm-drive pumps. In piston pumps, displacement is effected by means of a piston moving in a straight line. Piston pumps are suitable for the conveyance of liquids or gases. The compression of gases is also possible. Gear pumps convey a medium through the opposing movement of two gear wheels, one of which is driven, with the other starting to rotate in tandem. Gear pumps operate continuously and evenly and are designed for medium pressure range. A special form of the gear pump is the helical screw pump, which is marked by high efficiency and quiet operation. Special profiling creates chambers in which the medium is conveyed during rotation. Screw pumps are also suitable for higher pressure ranges and for the conveyance of viscous media.
The eccentric worm-drive pump is also a rotary displacement pump. This type of pump works very evenly and is also suitable for the conveyance of viscous and viscous media, which may also include solid content. Closely related to pump technology are macerators, which crush solids contained in the media that is to be conveyed, thus making these media pumpable in the first place. A variety of pump types can also be applied on ships. We offer spare parts for many applications.
Established manufacturers of pumps for maritime and industrial applications
One of the leading companies in Europe on the market for pumps, and particularly maritime pumps, is Allweiler AG. The company's history dates back to 1860. Tradition, knowledge and experience that have been passed down from generation to generation are key elements in the Allweiler's success. The company's range includes pumps used in shipbuilding, power plants and in industry, such as screw, eccentric worn-drive and hose pumps. Allweiler produces pumps for a wide range of conveyance tasks. The company's range also includes macerators.
Allweiler supplies not only individual pumps, but also complete solutions that can be applied for different purposes in a variety of sectors. Customised products are also possible. In addition to this, Allweiler is renowned for its customer-oriented service and expert advice. Allweiler is part of the American Colfax Corporation and has subsidiaries and affiliates worldwide. As well as its own products, Allweiler also sells gear pumps produced by its partner, Zenith, and lubrication and oil preparation systems produced by its partner LSC. Allweiler guarantees the impeccable quality of its products. We offer a wide range of spare parts for Allweiler pumps. If we do not have the desired products in stock, we can, under normal circumstances, obtain them at short notice.
In addition to Allweiler, we also supply spare parts for Grundfos, IMO, IRON, KRAL and KSB pumps. Like Allweiler, IMO is also part of the Colfax Corporation. As the developer of the screw pump, the company chiefly focuses on this type, which in the context of maritime technology is applied in, for example, the conveyance of fuel oil or lubricating oil. The Spanish company KSB specialises in the manufacture of maritime pumps and offers a broad range of products in this area, all of which can be applied to conveyance tasks on ships. These include, among others, gear pumps, rotary pumps and piston pumps.
Large range of spare parts for pumps
We offer a wide range of spare parts for Allweiler, IMO, Grundfos, IRON, KRAL and KSB pumps in particular. However, we also offer spare parts for other pump manufacturers, which have either in stock or can acquire within a short timeframe. We sell spare parts for not only maritime pumps, but also for pumps used in industry and other sectors. Our spare parts meet the highest quality standards to ensure that your systems operate reliably and keep maintenance costs low. We offer, for example, shafts, piston rods, cylinders, hoses, seals and much more.
Our range for diesel engines focuses on the following manufacturers:
spare parts Allweiler
spare parts
spare parts Allweiler NIM
spare parts T
spare parts Allweiler NAM

spare parts IMO
spare parts IMO ACE
spare parts IMO ACG
spare parts IMO ACD
spare parts IMO ACF

spare parts Grundfos
spare parts KSB
spare parts KSB ETANORM
spare parts KSB ETABLOC
spare parts KSB ETATHERM
spare parts KSB RSL
spare parts KSB RSN
spare parts KSB RSV

spare parts IRON
spare parts Kral
Goods are shipped either by us or by carefully selected hauliers. We take care of all customs formalities, both import and export, ourselves, making us independent of fixed opening hours of customs offices and guaranteeing minimal delivery times. Our available storage capacity also permits the temporary storage of goods.
We look forward to receiving your order!